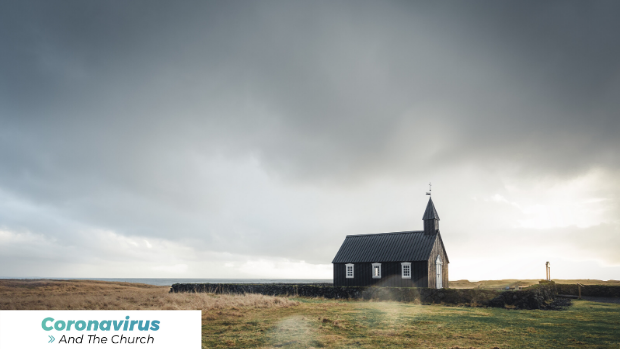 Josh Laxton currently serves as the Assistant Director of the Billy Graham Center, Lausanne North American Coordinator at Wheaton College, and a co-host of the podcast Living in the Land of Oz. He has a Ph.D. in North American Missiology from Southeastern Baptist Theological Seminary.
---
We are now a number of weeks into the COVID-19 crisis here in the United States. For the most part, many churches and believers have entered into a new normal, at least for the time being, as we ride the turbulent wave of the virus and the damage it inflicts personally, socially, culturally, and spiritually.
Here at the Billy Graham Center we work hard to be a hub for convening, training, and resourcing churches for greater gospel impact. Since the beginning of this crisis, we have sought to be a leading voice for how the church can embrace this crisis as a missional moment.
What I want to do in this post is to list what I see as good news and bad news of how churches and believers are doing during the crisis. In gospel like fashion, let's start with the bad news and then conclude with the good news.
Bad News
There's no question that a crisis elicits decisions. As such, pastors, church boards, and church leaders have had to pause and pivot, and thus plan and prepare for how they will minister and serve their church as well as their community through this crisis.
Just think about it: in literally a period of a week—possibly two—churches had to decide how they were going to conduct ministry and mission. And giving what the federal government (and state governments) was saying—in connection to what the experts were recommending—most churches moved to some form of online ministry.
According to LifeWay Research, only 7% of churches held an in-person worship service by March 29th, and many of them (43%) don't typically stream their services.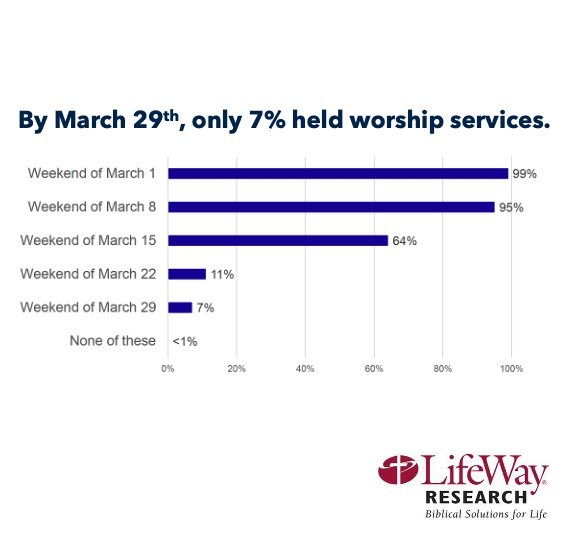 In short, churches have had to pivot hard and shift in a direction they weren't going.
In the midst of this pivot, two actions have come across either my social media feed or news feed that I believe display some divisional element in the church. And because it is a display of division, I'm labeling it bad news.
Debating Language Used in Moving Church Online
The first bad news element has to do with people wanting to enter into a theological debate on ecclesiology with regards to moving church online. This debate isn't new, it's been going on for years.
However, the immediate shift to church on a digital platform has brought out the critics. And so they see pastors and church leaders communicating things like "Join us for church online," "Watch church online," "Messages will be on-demand," and they feel the need to correct them.
In all honesty, I'm not a huge fan of online church services (prior to the crisis). I do believe in the public and corporate gathering of the saints. Over the last few weeks, I have missed gathering with the church to lift high the name of King Jesus. And I know that I am not alone. The reality is, many pastors are concerned with sustaining this model of ministry throughout April—God forbid if it extends into May or June!
There's no question that church leaders and churches have had to improvise with their model of ministry in the last couple of weeks. In that time, they haven't had the opportunity to think nor understand how they would communicate linguistically the theological and ecclesiological nuances of leading ministry via a digital platform.
Once we emerge from this crisis, by all means feel free to discuss and debate the theological and ecclesiological intricacies of online church. But for now, my exhortation is to show grace.
Defying Recommendations of Social Distancing
Like I said, crises elicit decisions. While it seems that the majority of churches have ceased in-person gatherings, there are those that continue to meet. Recently, a pastor of a megachurch was arrested on charges of "unlawful assembly and violating public health emergency rules of isolation and quarantine."
This incident obviously incited division within the Christian community, leading some Christian leaders to make this a 1st Amendment issue.
The dust storm surrounding this incident prompted the Florida state government to clarify the "safer at home" order. In that document, under section 3, it states, "For purpose of this Order and the conduct it limits, 'essential activities' means and encompasses the following:
Attending religious services conducted in churches, synagogues and houses of worship…."
I may be missing something here, but why would churches and church leaders defy recommendations handed down by the federal and state governments in light of what the experts are saying—especially in a state that is a "hot spot" for the virus? It may be different if the federal or state governments were banning them to preach, pray, or spread the name of Jesus. But they weren't. They are simply trying to keep people safe the best way they know how.
We have all seen the news reports coming out of places like Cartersville, Georgia, and Naperville, Illinois, where the coronavirus has hit church gatherings.
Two particular principles come to my mind in this incident. First, while churches and church leaders may have the liberty to meet, is that the wisest, most godly, and most loving thing to do during this time? Second, the Apostle Paul writes in his letter to Rome, "If possible, as far as it depends on you, live at peace with everyone" (Rom 12:18).
In this crisis, the church shouldn't be causing trouble for the authorities but working with them for the common good and flourishing of their communities and cities.
Click here to read more.
Source: Christianity Today