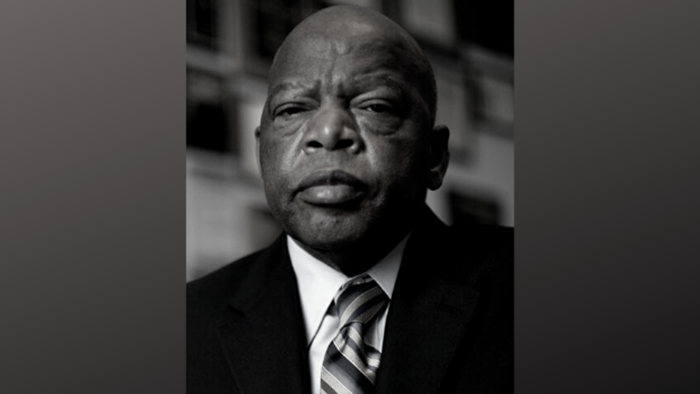 Jeff Christopherson is a church planter, pastor, author and Missiologist at the Send Institute – an interdenominational church planting and evangelism think tank.
---
On Thursday morning I had chills, goosebumps and moist eyes as I listened to John Lewis' inspiring last words as they were read aloud by a stammering and emotionally overcome reporter. It was a redemptive missal designed to be dispatched on the day of his homegoing celebration. These powerful words were penned from John Lewis' hospital bed in his last days with us, as if to put an exclamation point to mark the end of a life of singular focus. Though many of his socio-political positions would be much different than mine, his last words powerfully summed up the life message of his remarkable eighty years which he dedicated to the nonviolent pursuit of the basic human right of equality. "Together, you can redeem the soul of our nation,"[1] was his call to all of us who remain.
It was a call to courage. It was a path to healing. And it was remarkable.
His last breaths on earth were re-invested and once again poured into the very cause that consumed his life's energies. With a gracious spirit and hopeful optimism, John Lewis cast a final vision for a future that should have long already been realized. And as if to hand off the baton of his life-mission he wrote, "In my life I have done all I can to demonstrate that the way of peace, the way of love and nonviolence is the more excellent way. Now it is your turn to let freedom ring."
Listening to the reporter stumbling through John Lewis' posthumously published final words, I looked at my wife's expression – I could see that she also had been deeply moved. It was if we both sensed that this was a moment of history. Something substantial just happened.
But when I heard Lewis' correcting statement that, "Democracy is not a state, it is an act", my mind instinctively and immediately shot to the beleaguered condition of evangelicalism in North America. For many of us, faith has become a state rather than an action. It has become a way to distinguish and divide rather than a catalyst for spiritual unity and gospel peace.
It has become barbed wire boundaries more than a welcoming front door to Jesus. And it has become partisan and self-interested more than transformative and missionary.
Faith, it seems, has become a code of cultural identity rather than the submissive and subversive, counter-cultural steps that reveal an eternal Kingdom. And now it appears that the soul of evangelicalism has been publicly exposed, and those peering from the other side of our tangled barbed wire partition find little that is compelling, Kingdom, or reminiscent of Jesus.
As I reread the title of John Lewis' final message, "Together, You Can Redeem the Soul of our Nation," I wondered to myself, 'can we redeem the soul of evangelicalism?'
It seems that when the descriptor of 'evangelical' (which once spoke of a people dedicated to announcing the good news of Christ) became the moniker for an alignment of cultural identity, the term became wholly counterproductive to its original intent. Ironically, it appears now that the closer our association is to 'evangelicalism' as a cultural identity, the farther we are from effectiveness with our divine commission.
Yet every day I speak with pastors and leaders who haven't yielded their highest allegiance to a lesser realm; men and women who have chosen to prioritize their eternal commission over the temporal skirmishes of politics, preferences, and personal rights. For the sake of their commission, they are careful with their words and social media posts, knowing that a far greater battle is at stake. And their spirits, like mine, are grieved by the way we are perceived as a category – known not for our remarkable resemblance to Jesus, but for our partisanship.
It is here where John Lewis' life may give some guidance to those who feel that we, as a movement, have begun to drift from our eternal purpose. There are some things so important that they demand "good trouble." By their very nature, they require "necessary trouble" in order to keep our moorings in faith. They require a courageous disruption from a spiritually deceptive status quo that mouths many of the right words without their corresponding actions. They necessitate that many of us rise and boldly declare, "Sir, when you, as a Christian leader, belittle the marginalized around us, you do not speak for me. And you certainly do not speak for Jesus!" It compels us to publicly clarify how our spiritual allegiance to Christ leaves no room for ethno-nationalistic prejudices within His church.
So, practically, what is the 'good trouble' which faithful Christ followers must courageously seek in order to distinguish themselves from a political movement? When we look at the great breadth of Christian history, we can see that three battles occupied the efforts of those who sought fidelity to Christ above all else. These three were; 1)Contending for the Faith, 2)Proclaiming the Gospel, and 3)Revealing the Kingdom of God [2]as of faithful expression of that proclamation .
Click here to read more.
Source: Christianity Today