Josh Laxton currently serves as the Assistant Director of the Wheaton College Billy Graham Center, Lausanne North American Coordinator at Wheaton College. He has a Ph.D. in North American Missiology from Southeastern Baptist Theological Seminary.The Exchange Team contributed to this article.
Navigating and leading through a crisis or crises is draining on a leader. For instance, when you take into account the current pandemic (a health crisis) and all the other crises that the pandemic has caused—like economic, resource and organizational crises—it's no wonder that many pastors and church leaders are leading on fumes.
In addition to all the crises I mentioned above, we are also in a cultural crisis—one in which it seems that Americans (and even believers) are divided on how to handle. Not to discount the leadership of pastors in other parts of the world or throughout history, but this certainly has to be one of the most challenges times to pastor and shepherd a local church.
Let me ask you pastor, church leader: How are you doing? If you are like the majority of leaders, you're worn out emotionally and possibly physically, according to Barna.
I recently discovered a picture that displays the pictures of Abraham Lincoln each of the years he was President of the United States—all the way up until his death. It is a prime example of the effects of leadership during a crisis.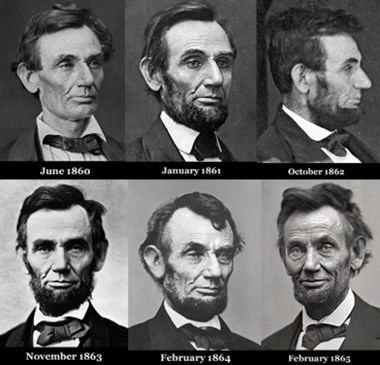 Nancy F. Koehn, in her book, Forged in Crisis: The Power of Courageous Leadership in Turbulent Times, writes that "He worried constantly. He lost weight because he was too anxious to eat. Since the beginning of the war, he'd had insomnia; now it grew worse…. As the months passed, Lincoln appeared more careworn, and his wife, Mary, and friends, feared for his health" (79).
Let's be honest, are you really surprised that the crisis took a toll on Lincoln? The reality is, whether you know it or not, the current crises are taking their toll on you. Think about it: our lives seek order and long for flourishing. Yet, when we lead an organization or a group of people that is experiencing the unraveling of order and enemies of flourishing, the crisis overworks our body, soul, and mind. As a result, it wears us out mentally, emotionally, physically, and even spiritually.
So, the question I pose for leaders in the midst of crisis is this: what is your plan for self-care to prevent the crisis from driving you to despair?
I believe the prophet Elijah can help us answer this question. In 1 Kings 19, after defeating the prophets of Baal on Mount Carmel, Elijah is coming off a major victory. But Jezebel wanted him dead. Rather than face the threat with faith, he fled. You could say that his mind was in the "basement," as his amygdala processed the emotions surrounding the dark news and alerted Elijah that he was in grave danger.
While in the "basement," Elijah isolated himself from others and expressed to the Lord "I have had enough! Take my life, for I'm no better than my fathers" (1 Kings 19:4).
There will be times in our leadership where everything is going extremely well— times when everything is in order and experiencing flourishing. However, in a moment, a crisis can hit that can immediately change our emotions and leave us feeling like we want to run away, isolate ourselves from everyone else, and crawl in a fetal position and die.
In order to take care of our bodies, soul, and mind in the midst of crisis, we need to have, at the very least, the following five disciplines. I call them disciplines for a reason, because, in the "basement," you will not feel like doing them.
Rest and Eat
The account explains that an angel came to the place where Elijah was, woke him up and told him to "get up and eat."
As a gentle father and a nursing mother, the angel recommends Elijah get up and eat and go back to bed. After he lay down a second time, the angel let him rest and came back to him again reminding him to get up and eat, "or the journey will be too much for you" (1 Kings 19:7).
One of the godliest disciplines you can enact in your life—especially in crisis—is eating healthily and resting well.
Gain Perspective
Well rested and with a fueled body from the food's nutrition, Elijah walks 40 days and nights to Horeb, the mountain of God. Why Mt. Horeb? Horeb happens to be the exact place where God gave Moses the 10 Commandments. Horeb and Sinai are the same place. Elijah goes to Mt. Horeb to seek God.
Years ago, I visited Pikes Peak, a mountain top outside of Colorado Springs, CO. On top of Pikes Peak you could see everything below as well as could see for miles across the horizon. As Elijah goes to seek and meet with God, he will engage a sovereign God who has full perspective of Elijah's life and situation.
When leading through a crisis, it's easy to become depleted, weary, empty, and exhausted. In such conditions, our perspective shrinks, and our eyesight becomes near-sighted. However, positioning ourselves with God on his mountain refocuses our brain, mind, and sight. As a result, we gain the perspective we need to move forward and to lead forward.
Click here to read more.
Source: Christianity Today