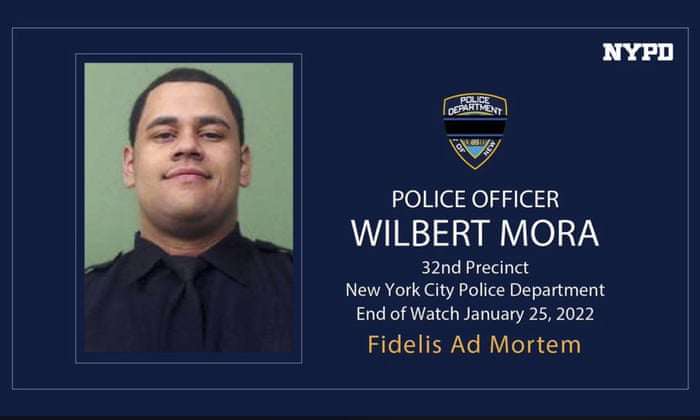 The second New York Police Department officer who was shot while responding to a domestic incident in Harlem last week has died, the NYPD commissioner said.
"It's with great sadness I announce the passing of Police Officer Wilbert Mora," NYPD Commissioner Keechant Sewell said on Twitter. "Wilbert is 3 times a hero. For choosing a life of service. For sacrificing his life to protect others. For giving life even in death through organ donation. Our heads are bowed & our hearts are heavy."
Mora, 27, and Officer Jason Rivera, 22, were fatally shot Friday when a suspected gunman opened fire in a Harlem apartment, authorities said. The suspect, Lashawn McNeil, tried to run but was confronted and shot by a third officer on the scene, police said. McNeil died on Monday.
Mora and Rivera are just two of five NYPD officers who have been shot in the nation's largest city in the first month of 2022. In addition, a woman was pushed onto the subway tracks in Times Square and a baby was hit in the face by crossfire in the Bronx.
These acts of violence under a new city administration — coming off a year that saw an increase in homicides — have dramatically changed the tenor of policing in New York City over the course of just a few days.
Now, as officials enact plans to stem violent crime and illegal gun ownership, the city is preparing for the return of plainclothes units that had been disbanded nearly two years earlier.
Mayor Eric Adams, a former New York Police Department captain who began his term less than four weeks ago, touted his law and order experience during the election campaign. Now, lawlessness has become his biggest immediate challenge following a spate of high-profile attacks on residents and police alike.
Click here to read more.
SOURCE: CNN, Brynn Gingras, Travis Caldwell and Emma Tucker