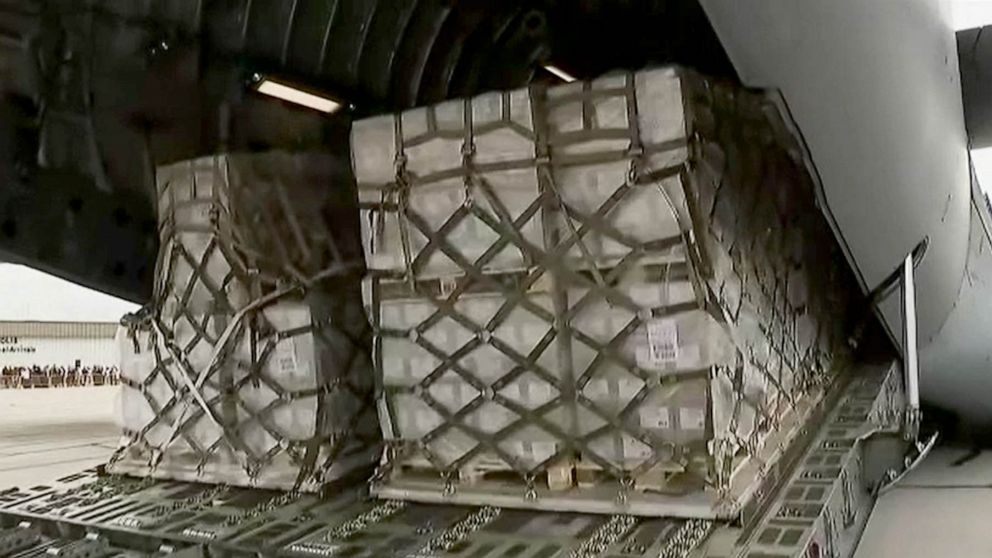 The first batch of imported baby formula under "Operation Fly Formula" arrived in the United States on Sunday as the Biden administration tries to alleviate the nationwide baby formula shortage.
Military aircraft transported the shipment of three formula brands, the equivalent of up to half a million 8-ounce bottles, from Ramstein Air Base in Germany to Indiana. The shipment included Nestlé Health Science Alfamino Infant and Alfamino Junior as well as Gerber Good Start Extensive HA, all of which are hypoallergenic formulas for children with cow's milk protein allergies.
The Department of Agriculture said Saturday that "additional flights will be announced in the coming days."
"Typically, the process to transport this product from Europe to U.S. would take two weeks. Thanks to Operation Fly Formula, we cut that down to approximately three days," White House press secretary Karine Jean-Pierre said.
This shipment is the first of multiple planes of imported formula expected to arrive in the U.S. in the coming weeks.
Another shipment of formula will be flying into Washington Dulles International Airport in Virginia on a FedEx plane this coming week, the White House announced Sunday afternoon.
FedEx has secured a government contract to carry that critical cargo, bringing it from Ramstein Air Base in Germany.
Click here to read more.
SOURCE: ABC News, Alexandra Hutzler